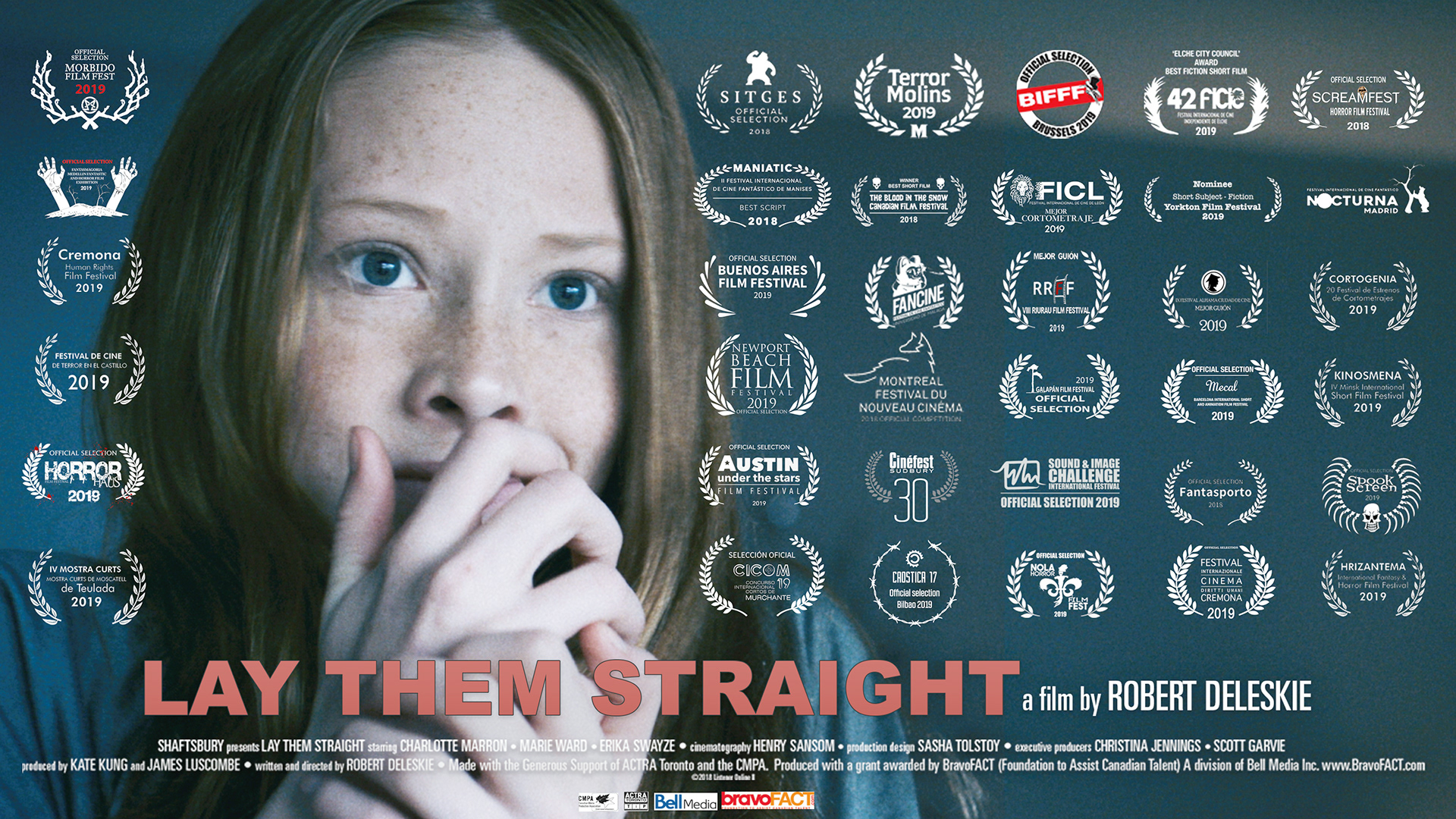 ***WINNER "BEST SHORT" BLOOD IN THE SNOW FILM FESTIVAL***
***WINNER "BEST SHORT SCREENPLAY" TERROR MOLINS***
***WINNER "BEST INTERNATIONAL SHORT FILM" NOCTURNA***
***WINNER "BEST SHORT FILM" ELCHE INTERNATIONAL INDEPENDENT FILM FESTIVAL***
***22 INTERNATIONAL AWARDS AND DOZENS OF NOMINATIONS***
***MORE THAN 100 FESTIVALS TO DATE***
https://www.facebook.com/laythemstraightmovie
A teenage girl battling obsessive compulsive disorder has to run the gamut of school bullies every day, until a traumatic event convinces her that her disorder may be an indication of supernatural powers.
Shaftesbury presents LAY THEM STRAIGHT 
Written & Directed by ROBERT DELESKIE
Produced by KATE KUNG and JAMES LUSCOMBE
Executive Producers CHRISTINA JENNINGS and SCOTT GARVIE
Director of Photography HENRY SANSOM 
Production Designer SASHA TOLSTOY
Starring (in order of appearance)
Charlotte Lindsay Marron
Marie Ward
Erika Swayze
Olivia Presti
Diya Kittur
Ayesha Mansur Gonsalves
Rée Andrews
Made with the Generous Support of ACTRA Toronto and the CMPA. Produced with a grant awarded by BravoFACT (Foundation to Assist Canadian Talent) a division of Bell Media Inc.